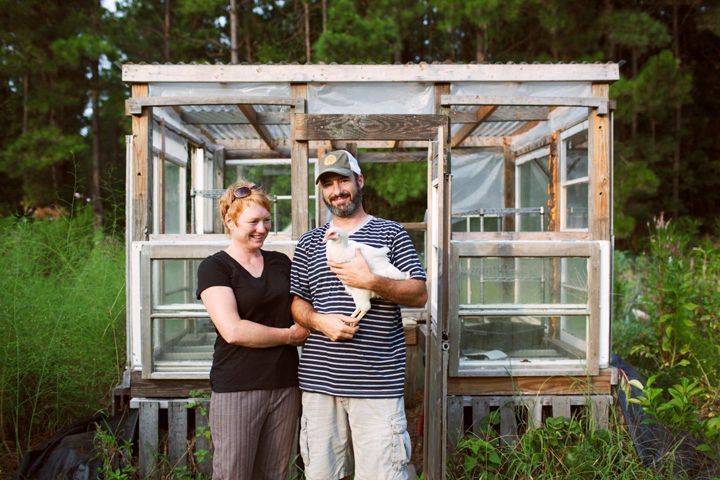 Q&A
Photos by Olivia Rae James | 2.4.2015 | Issue #10
Sometimes, we'll admit it, we get a little caught up in the chef game. It's what we originally planned for this slot, some sort of Tastemaker's Ode to Charleston, in which industry folks would tell us why they've made Charleston their home.
When faced with James's stunning shots and Blake Suarez's earnest words, we were reminded that it's not just the chefs who are making the masses yearn for Charleston. It's the daywalkers, too, who are just as crucial to the culinary fabric, who are just as involved, just as passionate about supporting what this buzzy town has to offer.
Q: what does Charleston have that makes it a place chefs feel at home?
Like most major cities around the States, Charleston has been embracing and encouraging localism whole-heartedly. This isn't anything new though, and I doubt the term really comes to mind as a grassroots effort because Charleston is so tied to its producers. We take pride in our producers and the peninsula is surrounded by a wide variety of them, which makes access to organic and fresh food incredibly easy (even for the home cook). From clammers, to salt harvesters, and gristmills to incubator farms, Charleston chefs take advantage of all there is to offer in the Lowcountry before considering importing goods.
Q: What is it like to be swept up in a culinary zeitgeist?
It is incredibly inspiring, and often times overwhelming because there is only so much time in a day and my stomach can only hold so much food. Getting to know chefs around Charleston opens doors to field trips and foraging forays that I can safely say I wouldn't be doing as much of in another city. You're less than 20 minutes away in any direction from a farm, a fishing dock, or a trail and knowing where restaurants buy from and being able to recognize the farms that supply the certain varieties…yes, this is probably coming across really Portlandia, but it is true! It feels good!
Q: Are there assumptions people make about Charleston, either about its food or culture, that are way off the mark?
I think people are recognizing the South isn't as backwards as everyone stereotypes, but the assumption is still there. I wouldn't say that is completely off the mark either, especially in certain towns. Charleston is still pretty rooted in Southern traditions, but a lot of these traditions revolve around Southern hospitality.
Q: What do you make of the value modern chefs place on Charleston?
The Lee Brothers put this better than I can in their most recent book Charleston Kitchen: "What seems exceptional in light of all the attention is that Charlestonians don't perceive the culinary education we get from living here to be out of the ordinary, even as so many customs quietly endure today: the parish hall tea rooms open their doors every spring, rice is preeminent, jars of loquat liqueur cure in homes downtown... We still purchase our fish directly from the fisherman...and our orientation toward food isn't a trend we're trying on this season, it's just life here."
Q: What do you see as Charleston's full potential?
There is a lot of pressure on the city to expand right now and make room for new business, but obviously that comes with a lot of new development. I'm originally from Miami, a city that has been plagued with overdevelopment in every direction and the infrastructure is just a mess. I know a lot of us are worried that Charleston might lose a bit of its charm if it continues to expand, but there isn't much room for growth on the lower peninsula, so I'm optimistic it won't lose that feel. I don't think this will keep it from reaching any full potential, either. Personally, I can't see it getting much better, but I'm not really asking for more.
Q: Most meaningful/memorable experience of late?
Recently, our friends in McClellanville (Bulls Bay Saltworks) introduced us to a neighbor of theirs that owns clamming beds out along the intracoastal. We met them at six in the morning to skim across the waters. I'd watched them clam before, but this time we were harvesting oysters for an afternoon roast and I was amazed how easy they were to pluck from the pluff mud. I accidentally broke off half of a shell and could see the oyster just begging to be eaten then and there. It was by far the freshest and most delicious oyster I had ever eaten. Romanticizing the situation probably made it taste so good too… on a boat... surrounded by oysters and marsh... covered in pluff mud.
Q: Big-name favorites, and dive-y favorites?
Olivia and I love us some Chez Nous and Minero right now. Fanny and Patrick of Bin 152 opened up Chez Nous last year with Jill Mathias and Juan Cassalett perfecting plates left and right. It's an intimate French restaurant off Coming Street with an ever-changing menu and a beautiful wine list. They feature four different dishes each day and two desserts. Minero, Sean Brock's new baby, has some pretty great fish tacos a frozen drink called El Satanico that we dream of. (I also dream of owning my own frozen machine, with that constantly at hand.) Dive-wise, our neighbor Matt Lee told us to check out Fish Net Seafood, one rainy day, off the shoulder of 17 heading South. We didn't know what to expect when we pulled up, but couldn't have been happier with our $1.50 fried (WHOLE) crabs and our sides of hushpuppies and sweet tea in the car.
M